2021 PCAPI Virtual Induction Ceremony
July 7, 2021

Posted by:

admin_pcapinational

Category:

News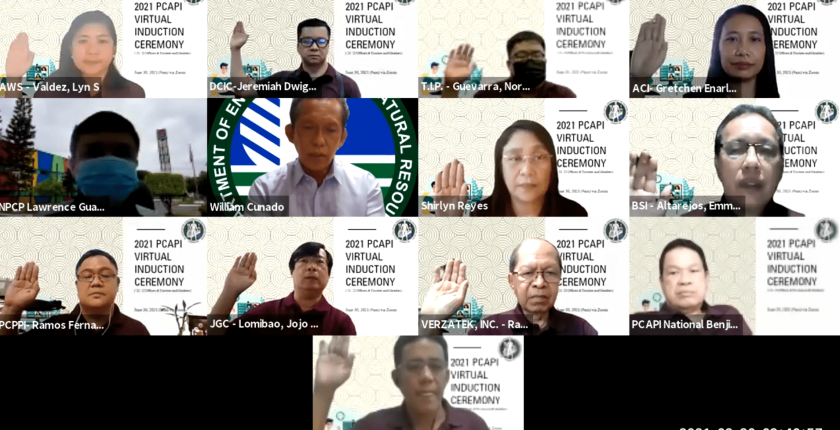 June 30, 2021 via Zoom
The Pollution Control Association of the Phils., Inc. (PCAPI) National conducted its 2021 Induction last June 30 via Zoom. This year, PCAPI National's Inducting Officer to the Officers and Trustees for 2021- 2022 is no other than the Director of Environmental Management Bureau (EMB), Engr. William P. Cuñado.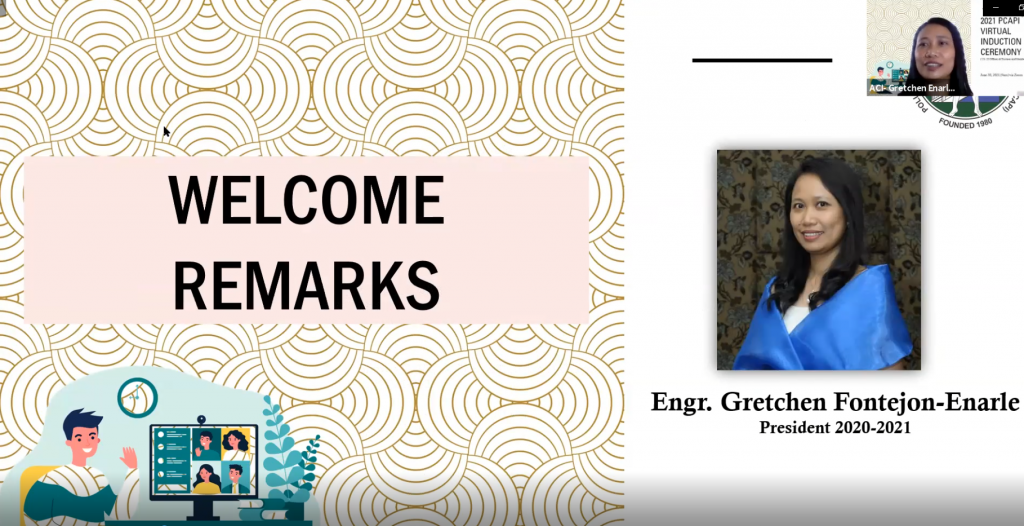 Engr. Gretchen Fontejon – Enarle (President, 2020-2021) delivered her opening remarks to the board of trustees, advisers, guests, new lifetime, and institutional members of the association. She mentioned the milestones and development of the association throughout the year.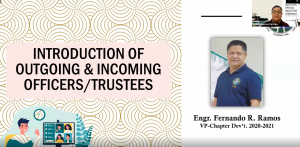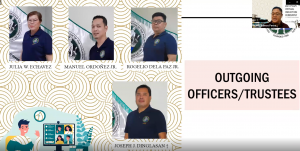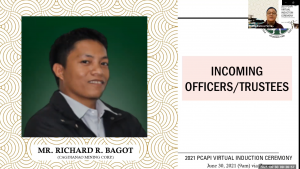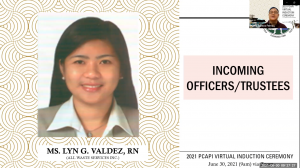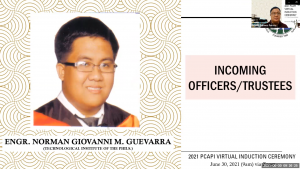 Engr. Fernando Ramos (VP-Chapter Development, 2020-2021) recognized the outgoing trustees and acknowledged them for serving the association during their terms. He welcomed the incoming trustees who were elected during the Virtual General Assembly last April 28.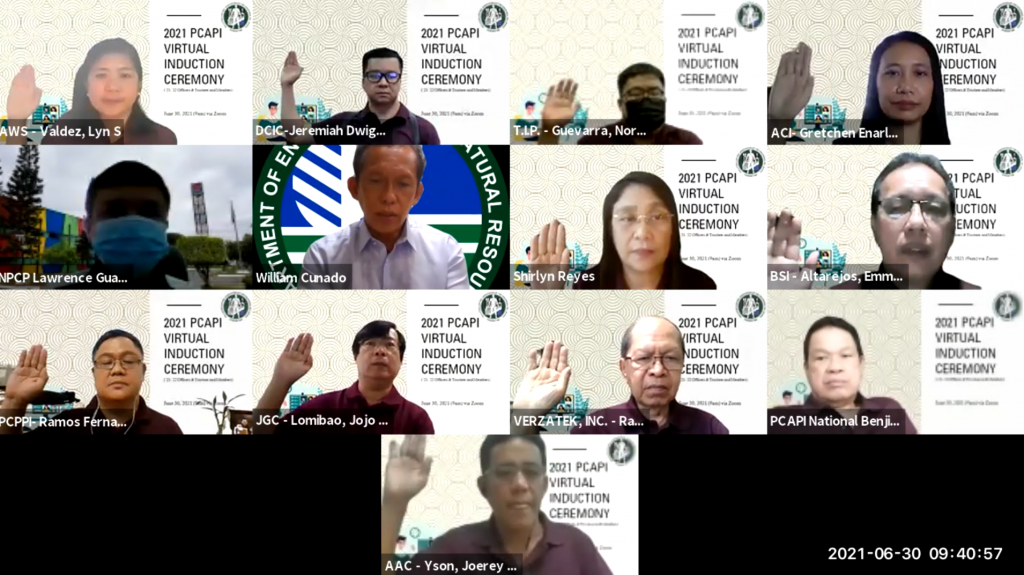 As to move along on the highlight of the virtual event, the Inducting Officer, EMB Director Engr. William P. Cuñado gave his message to the association and congratulated the 2021-2022 Officers and Trustees. Dir. Cuñado led the reading of the Oath of Office.
Described as the pandemic president by Engr. Ramos, Engr. Enarle who have been elected for 3 consecutive years delivered her acceptance message as she will face her term again during pandemic and hoping to achieve more for the association.

Engr. Shirlyn C. Reyes, PhD, ASEAN, APEC, ACPE (Secretary 2021-2022) introduced and welcomed the new institutional and lifetime members of the association.
INSTITUTIONAL MEMBERS:
PASAR Corporation
GlobalFME, Inc.
Seanogy Environmental Solutions, Inc.
Imes Corp.
All Waste Services Inc.
LIFETIME MEMBERS
Meralco
First Gen Corporation
Philippine Airlines
BSI
Elarsi, Inc.
Pacific Paint (Boysen) Philippines, Inc.
Rio Tuba Nickel Mining Corportation
Nippon Paint Coatings Phils., Inc.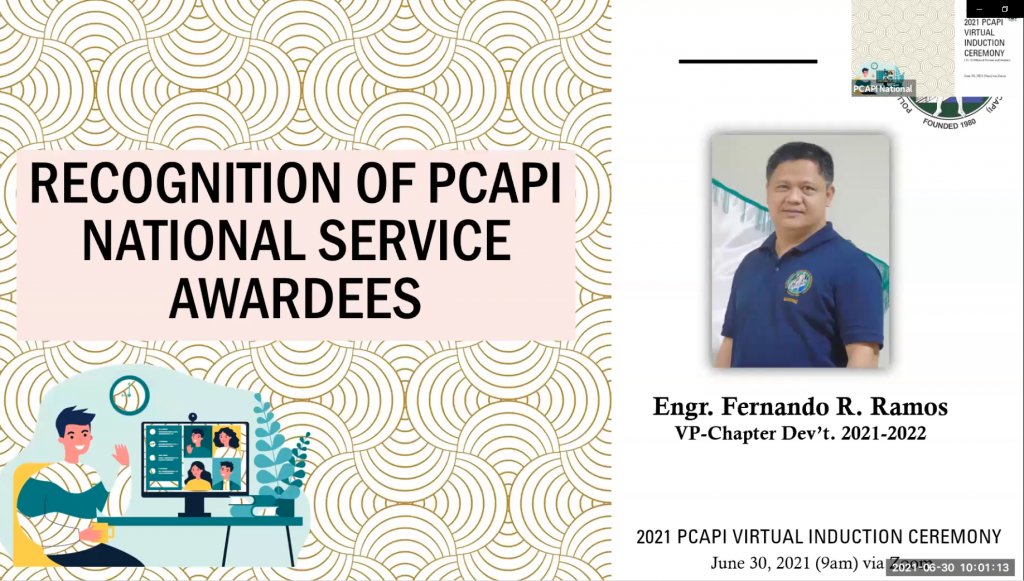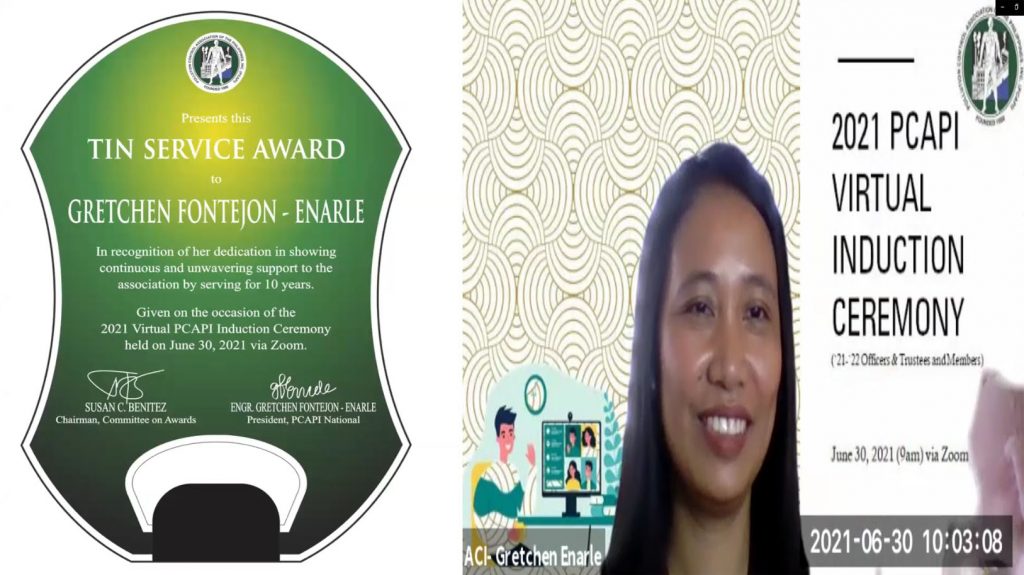 As part of the program, Engr. Ramos introduced this year's PCAPI National Service Awardees. He acknowledged and recognized the passionate and dedicated Trustees who have served the association for 15 and 10 cumulative years.


As we are celebrating the incoming year of the New Sets of Officers and Trustees, we are also in mourn with the sudden death of our beloved Trustee, Joseph Dinglasan† who have served and been in the association for a decade. The association offered a Tribute to the late Trustee Joseph Dinglasan† as remembering most of the precious moments with him.

To officially end the program, Mr. Jeremiah Dwight C. Sebastian (VP-External Affairs, 2021-2022) delivers his closing remarks as he acknowledged everyone who have attended the virtual event, the Inducting Officer as they take time to be part of the association's 2021 Virtual Induction Ceremony.