PCAPI
>
News Bulletin
>
News
>
Climate Change = Be the Change (Technical Session aligned with UN SDG 13: Climate Action)
Climate Change = Be the Change (Technical Session aligned with UN SDG 13: Climate Action)
December 3, 2021

Posted by:

admin_pcapinational

Category:

News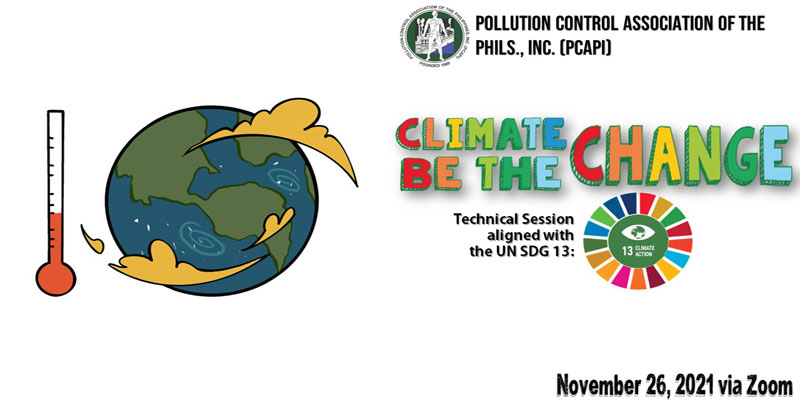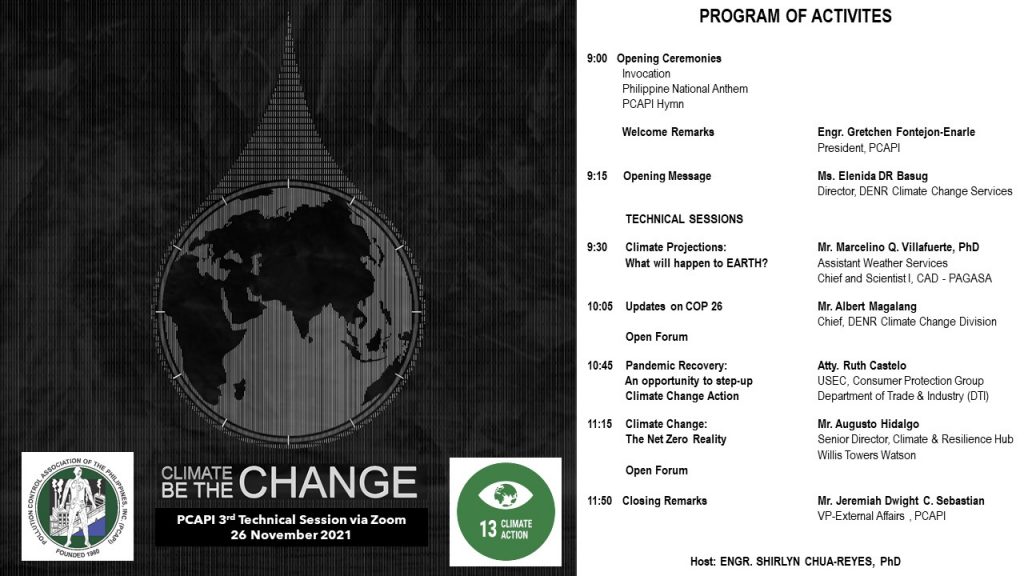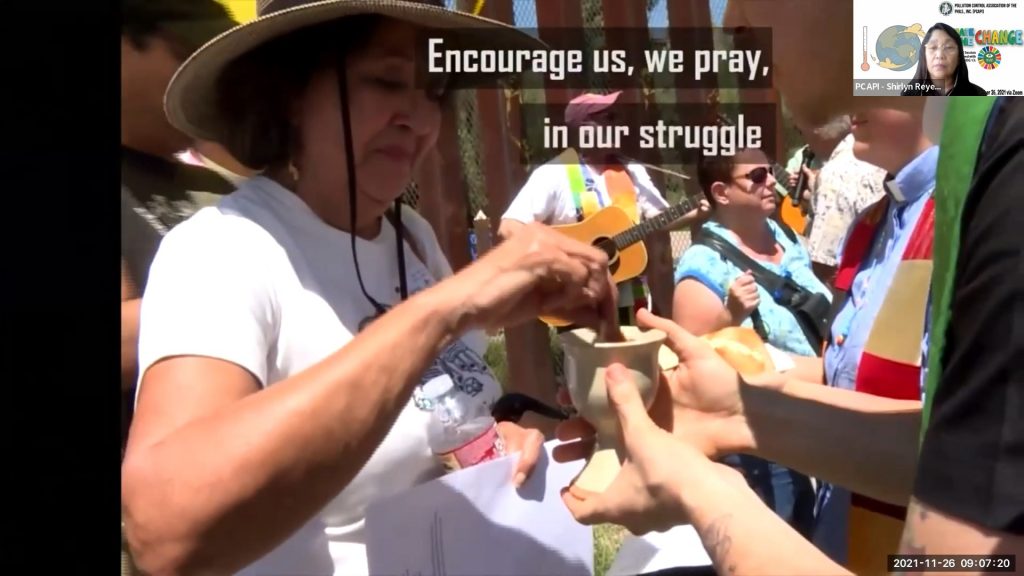 The Pollution Control Association of the Phils., Inc. (PCAPI) National conducted its 3rd Technical Session last November 26 via Zoom aligned with the UN SDG 13 which speaks on Climate Action with the theme: Climate Change = Be the Change. The program was hosted by PCAPI Board Secretary, Engr. Shirlyn C. Reyes, PhD, ASEAN, APEC, ACPE and moderated by VP-Internal, Engr. Fernando R. Ramos.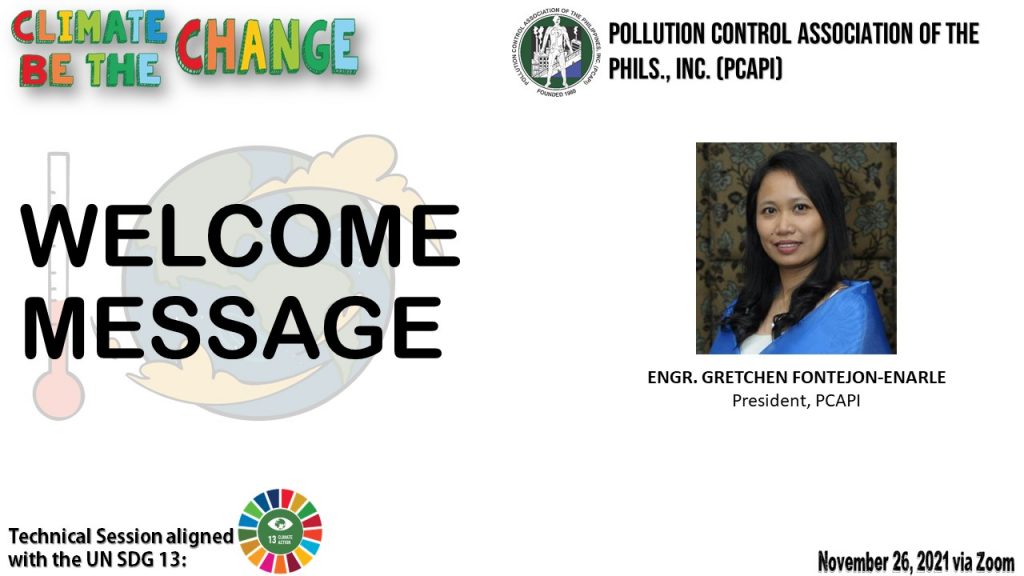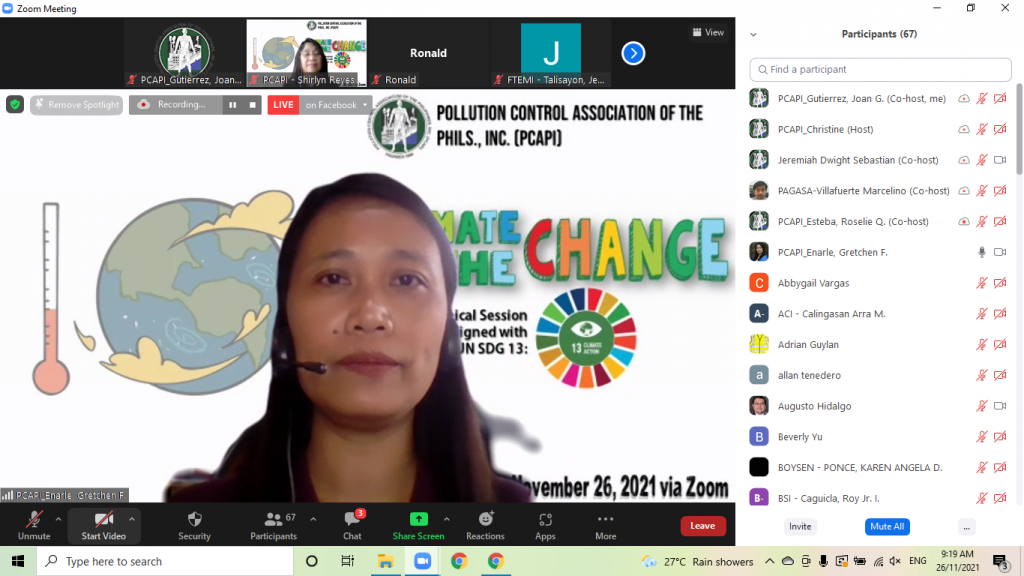 PCAPI President Engr. Gretchen Fontejon – Enarle delivered her opening message to the board of trustees, advisers, guest speakers and members of the association. Speaking on the current issues about Climate Change, Engr. Enarle provided the participants a glimpse of what is climate change and how it affects the environment and human lives. "You cannot get through a single day, without having an impact on the world around you. What you do makes a difference, and you have to decide what kind of a difference you want to make. Be the change"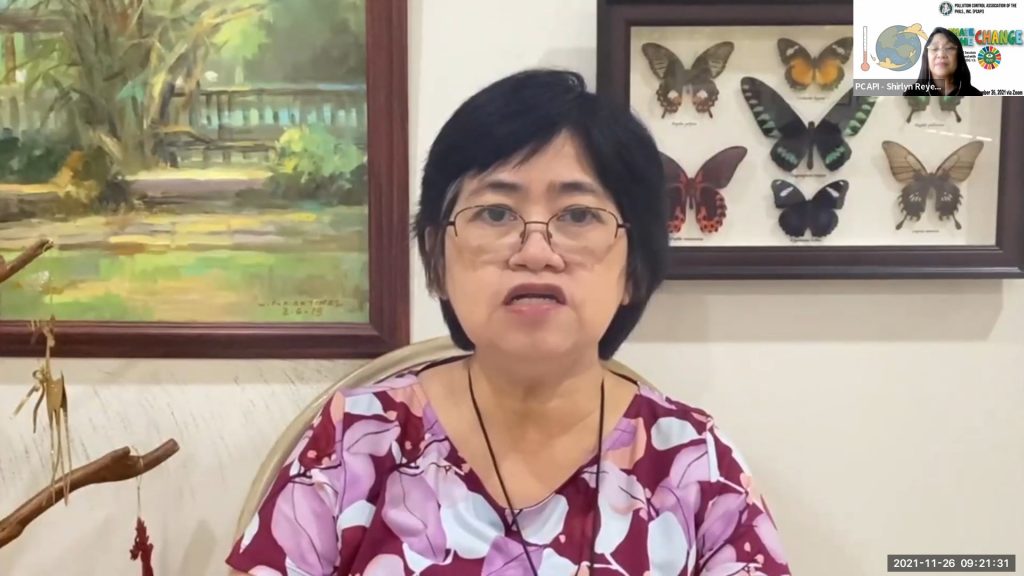 Ms. Elenida Basug, the current Director of Department of Environment and Natural Resources (DENR) Climate Change Service (CCS) delivers her keynote message as part of the opening program. Director Basug has been one of the partners of PCAPI National during its annual conventions as guest speaker. She highlighted two (2) very important events that occurred related to climate change which is the release of the Intergovernmental Panel on Climate Change's (IPCC) 6th Assessment report last August 2021 and the recently concluded 26th Conference of the Parties (COP26) held in Glasgow, Scotland last Oct. 31-Nov. 12, 2021. "With these two (2) important events send us strong message to step-up our Climate Action", Dir. Basug says.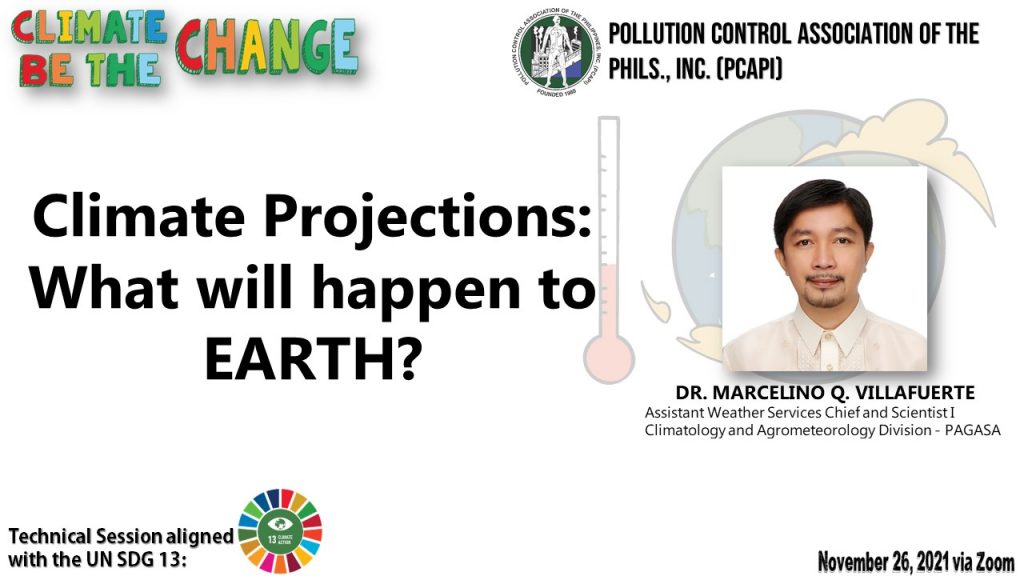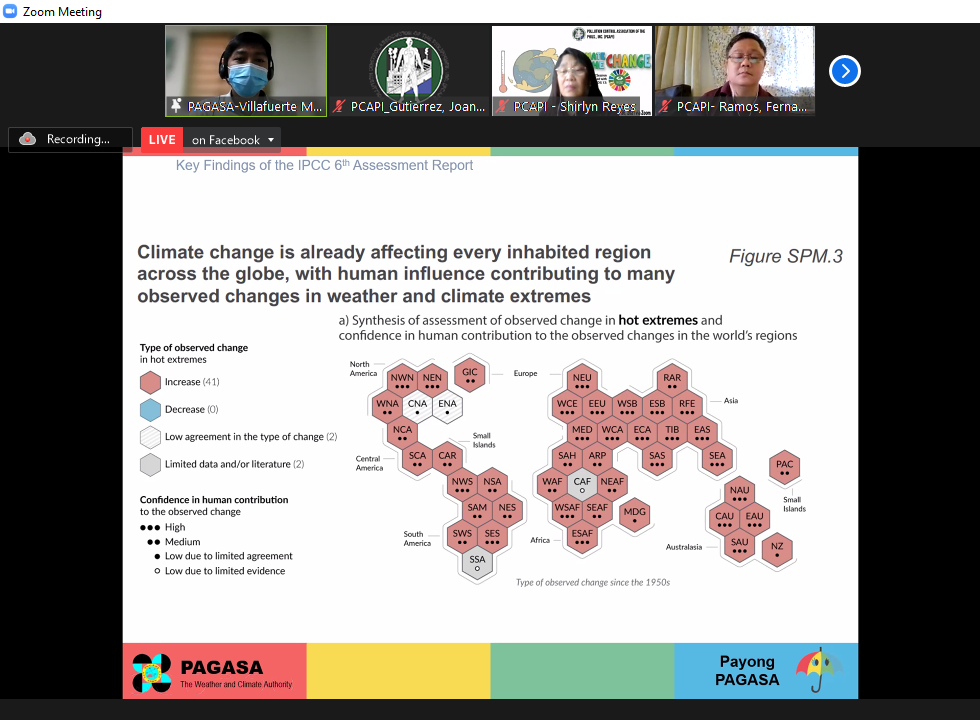 Dr. Marcelino Q. Villafuerte II, Assistant Weather Services Chief and Scientist I from Climatology and Agrometeorology Division of PAGASA presented "Climate Projections: What will happen to Earth?" Dr. Villafuerte provided the participants a brief but detailed information on the IPCC 6th Assessment report which was mentioned by Dir. Basug during her keynote message. Dr. Villafuerte also showed the online platform featuring an interactive map known as the CliMap.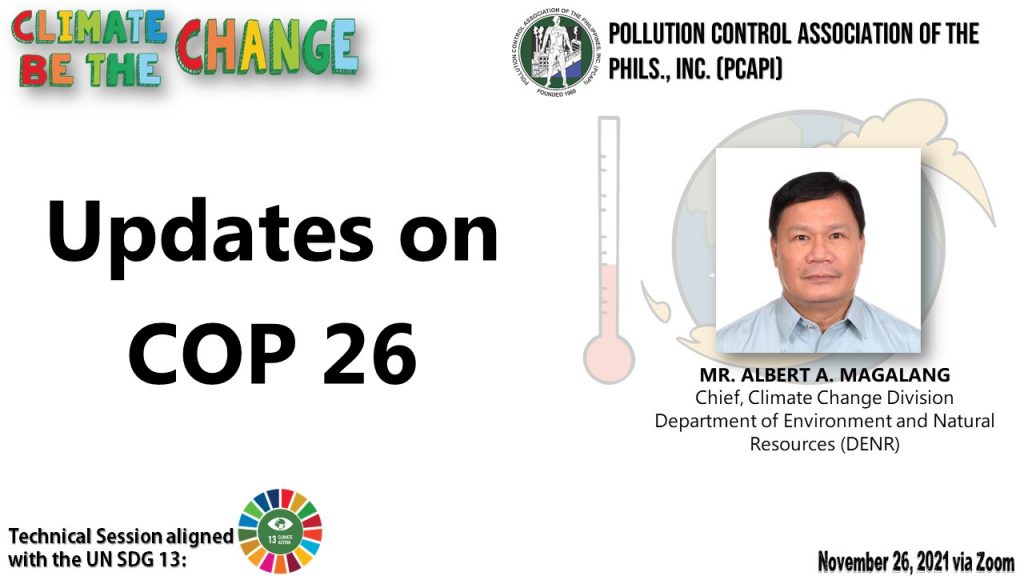 Mr. Albert Magalang the current Chief of Department of Environment and Natural Resources (DENR) Climate Change Division presented the "Updates on COP26". He was one of the representatives of the Philippine delegation to the 26th Conference of Parties. Mr. Magalang briefly explained the importance of COP26 to the Philippines in terms of Climate Action and National Sustainable Development and elaborated the output of COP26 as to: Science & Urgency, Adaptation, Adaptation Finance, Mitigation, Finance, Technology & Capacity Building, Loss & Damage, Implementation and Collaboration.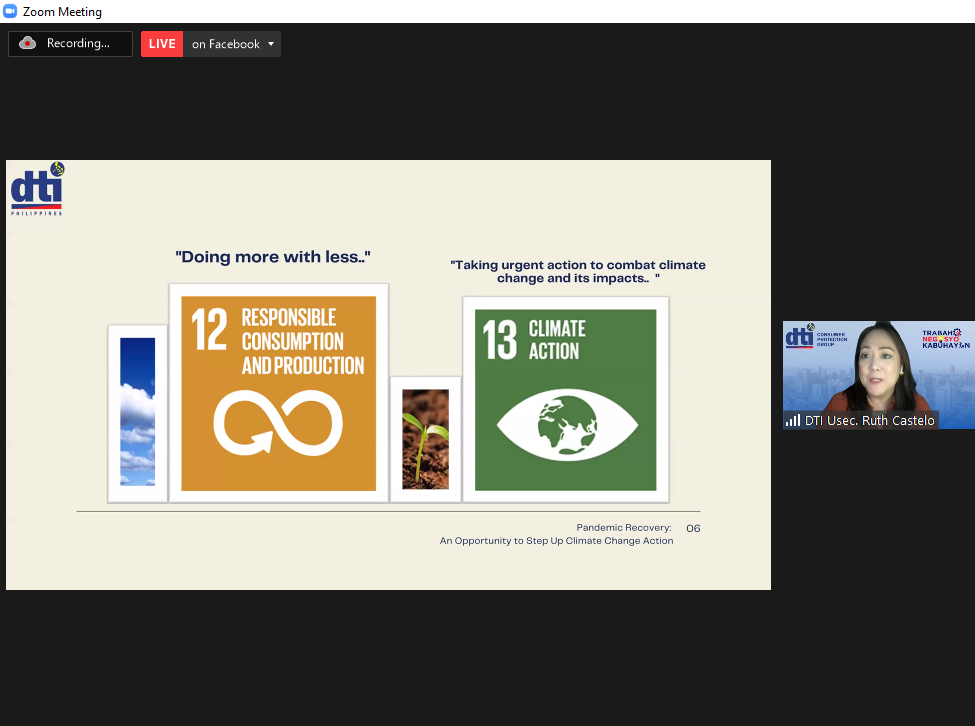 Atty. Ruth Castelo the current Department of Trade and Industry (DTI) Undersecretary for Consumer Protection Group presented "Pandemic Recovery: An Opportunity to Step Up Climate Change Action". USEC Castelo provided a very detailed presentation on the effects of the people's personal consumption to climate change. She then clarifies that UN Sustainable Development Goal 12 on Responsible Consumption and Production is related to the Goal 13 which is Climate Action by "doing more with less" on SDG 12 and "taking urgent action to combat climate change and its impacts…" on SDG 13. Included in her presentation are the unsustainable patterns of consumption and production that contributes to air pollution.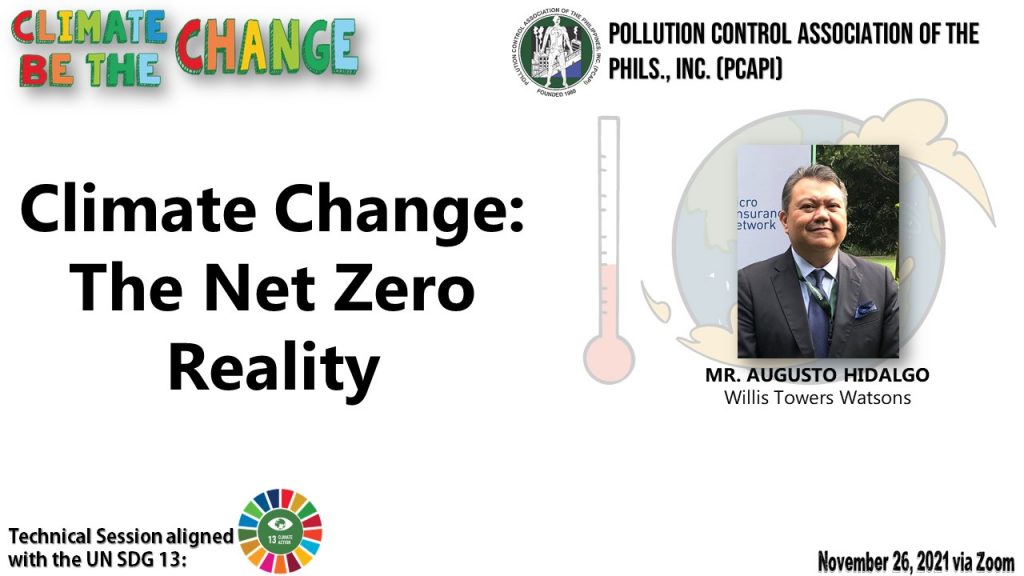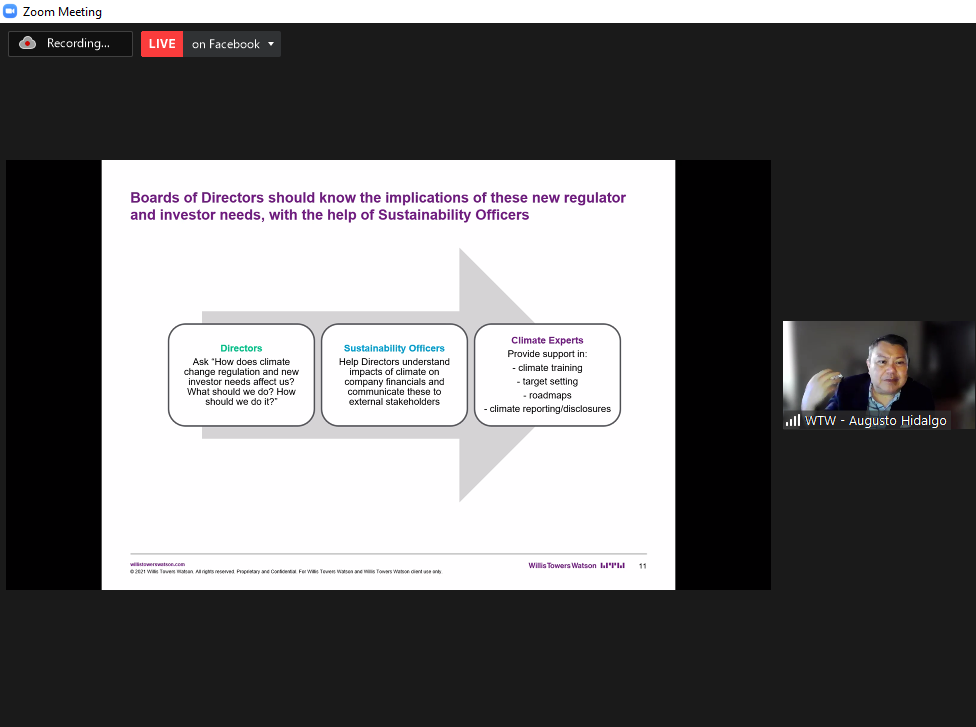 Mr. Augusto Hidalgo, Senior Director, Climate & Resilience Hub of Willis Towers Watson presented "Climate Change: The Net Zero Reality" Mr. Hidalgo discussed the definition of Net Zero and how Net Zero, Climate Change, COP commitments affects the responsibilities of Sustainability, Pollution Control and Environmental Health and Safety Officers. "Groups working to prevent, abate, and control air pollution should understand net zero and its implications…" according to Mr. Hidalgo. The coordination and understanding between the Management and its Sustainability Officers will help companies achieve their environmental goals such as on climate change adaptation.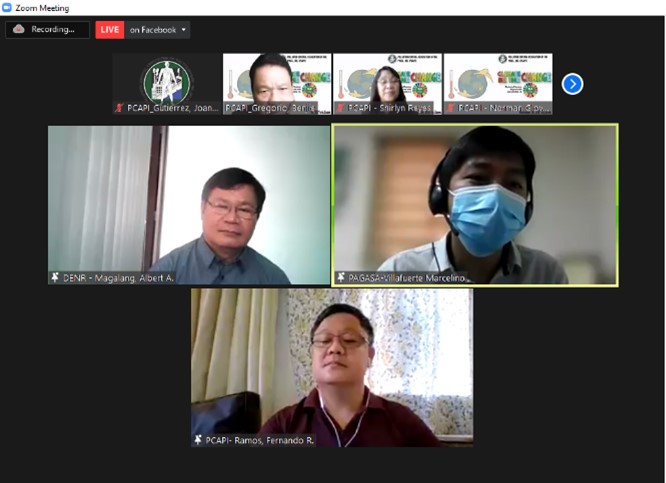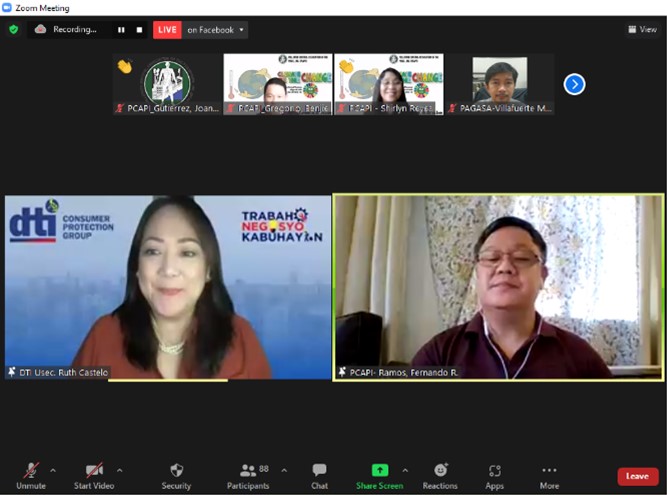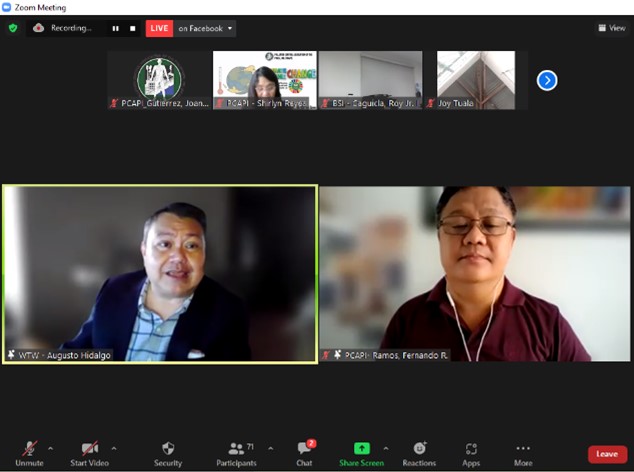 One of the most awaited parts of the Technical Session was the Open Forum where participants are given the chance to raise their questions for each speaker. Moderated by PCAPI VP Internal Affairs Engr. Fernando Ramos, questions asked were highlighted and answered by the designated speaker.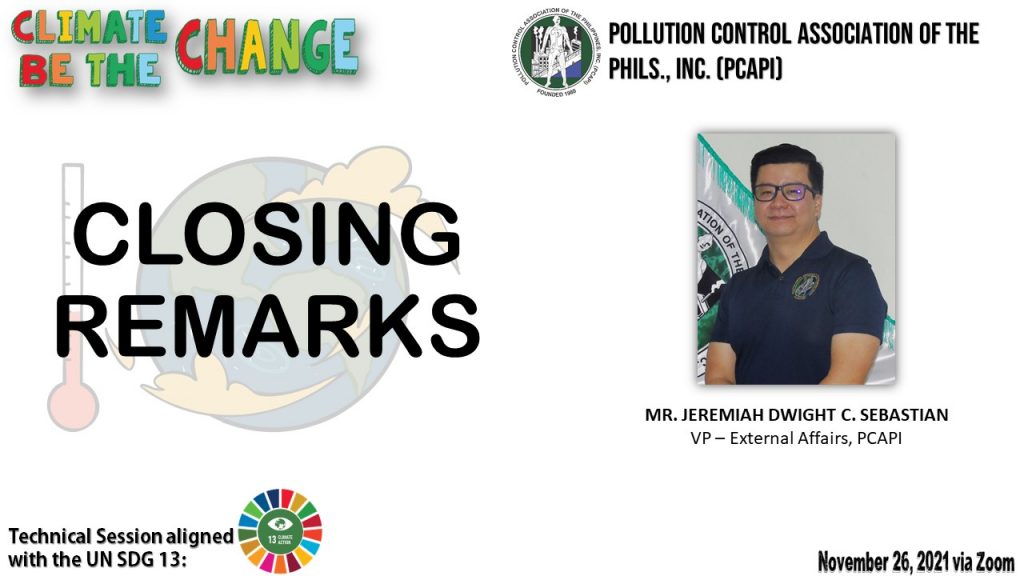 To officially end the program, PCAPI VP External Affairs Jeremiah Dwight C. Sebastian delivered his closing remarks as he acknowledged everyone who have attended this years' last Technical Session, the keynote speaker, resource speakers, guests and PCAPI National trustees and advisers as they take time to be part of the virtual event.