PCCI Environment Forum: Regulatory Updates & Sharing of Best Practices
June 14, 2019

Posted by:

admin_pcapinational

Category:

Uncategorized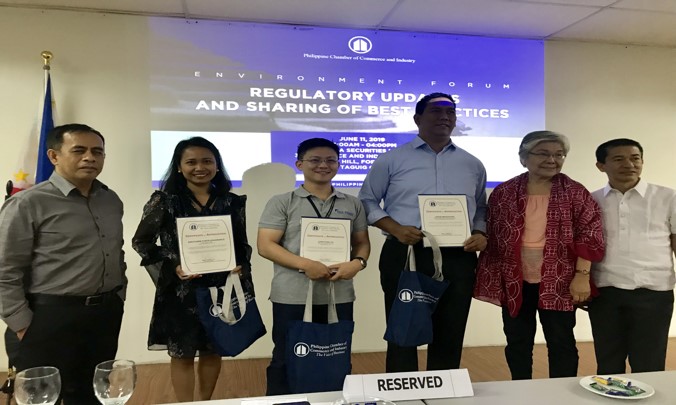 The Philippine Chamber of Commerce and Industry (PCCI) held its Environment Forum on June 11, 2019 at the PCCI Building in Taguig City. Entitled Regulatory Updates and Sharing of Best Practices was attended by about 60 participants.
Engr. Renato Cruz , Chief of the EMB- Environment Quality Division (EQD) provided the EMB Thrusts and Policy Direction including Policy Updates  and the EMB Circular 2019-003 on the Updated Guidelines in the Processing and Issuance of ECC for Category B Projects.
Other presentations include Biodiversity: What's in it for Business by Dr. Theresa Mundita Lim, Executive Director of ASEAN Center for Biodiversity.
Engr. Nicanor Mendoza, Engineer IV of the Office of the Assistant Director presented the Updates on the Manila Bay Rehabilitation. According to Engr. Mendoza, one of the projects related to this is the Adopt an Estero / Water Body Project. He also cited that among the 19 samplings stations for water quality, majority failed on fecal coliform, BOD and DO.
Updates on the Implementation of DAO 2016-08 and EMB MC 2019-004 Advance Training Modules for Pollution Control Officers were presented by Ms. Leza Acorda- Cuevas.
An open forum was facilitated by Engr. Jose Reynato Morente after each of the sessions.
Mr. Jason Magdaong from Oceana Gold Philippines, Inc. and TOPCO Awardee of the PCAPI National, Ms. Gretchen Fontejon- Enarle of Atlantic Coatings, Inc. and Vice President for External Affairs of PCAPI National  were invited as resource speakers to share on best practices. Oceana Gold and Atlantic Coatings, Inc were PCCI's winner in the 2018 Excellence in Economy and Ecology Award for Large and Medium Category. Pacific Paint (Boysen) Phils., Inc.-  the mother company of ACI, won the Excellence in Innovation Award.